UAFX – Huge UAD Sound, Small Footprint
For the past two decades, Universal Audio's UAD platform has brought the legendary sounds of classic hardware to the software world. Their award-winning plugins can be heard on countless multi-platinum albums and are the not-so-secret weapon for studios of all sizes around the world. But until now, the rich sounds of the UAD platform have only been available in the computer. 
The new UAFX platform changes that – bringing UAD fan favorites and fresh models of some of the most coveted effects in history to a pedal format. With three models to choose from, UAFX promises rich reverbs, delays, and modulation right on your pedalboard.
Each pedal features three legendary effects, Stereo/Dual Mono operation, True Bypass/Optional Buffer, analog dry-through, and are perfectly suited for guitar, bass, synths, and even as an analog insert effect for your studio! Top it off with a rugged chassis, presets, and bonus effects when you register with UA, and you've got UAD quality sound at home, on stage, and in the studio. 
The UAFX line is shipping  now, so watch our intro below and order yours today!
4:49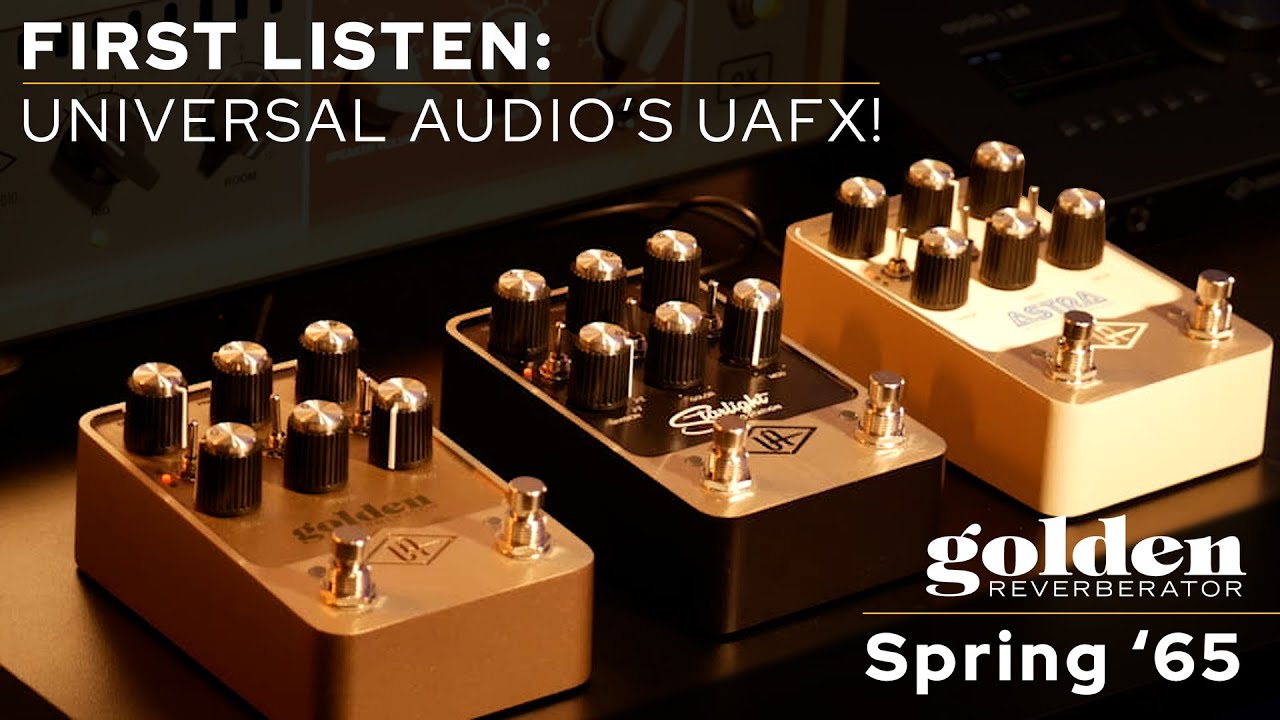 5:41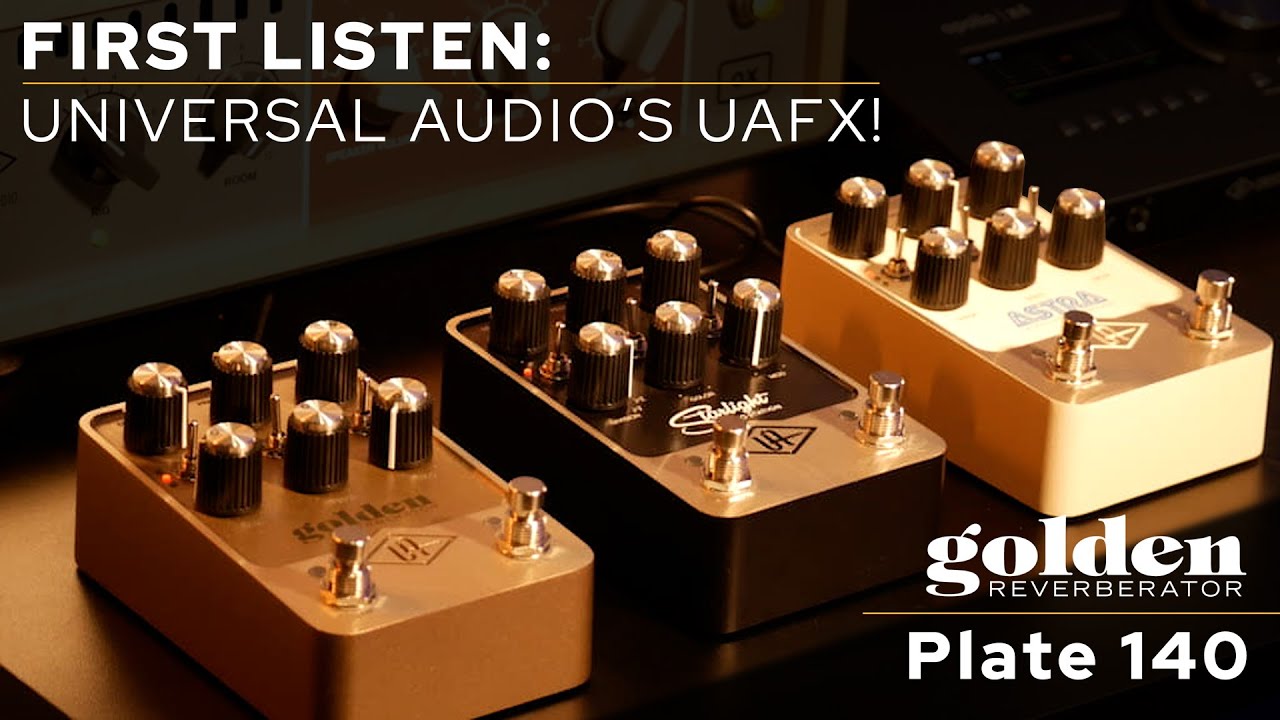 1:49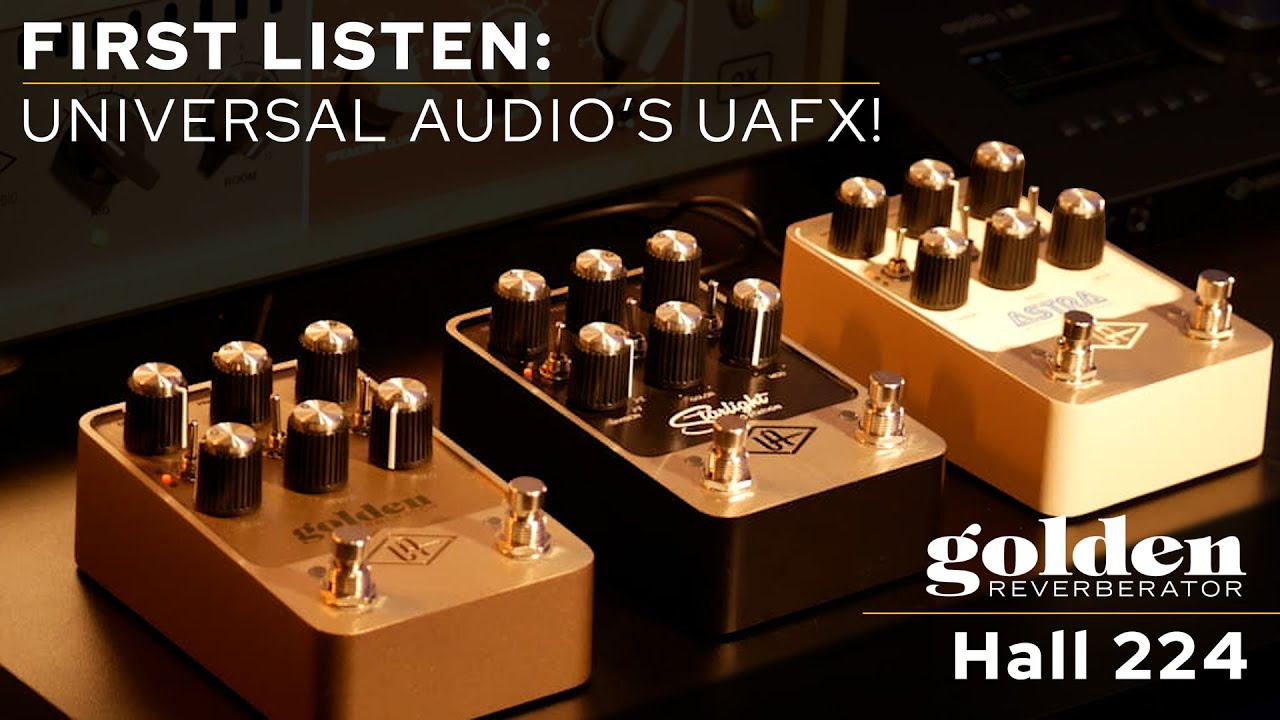 3:10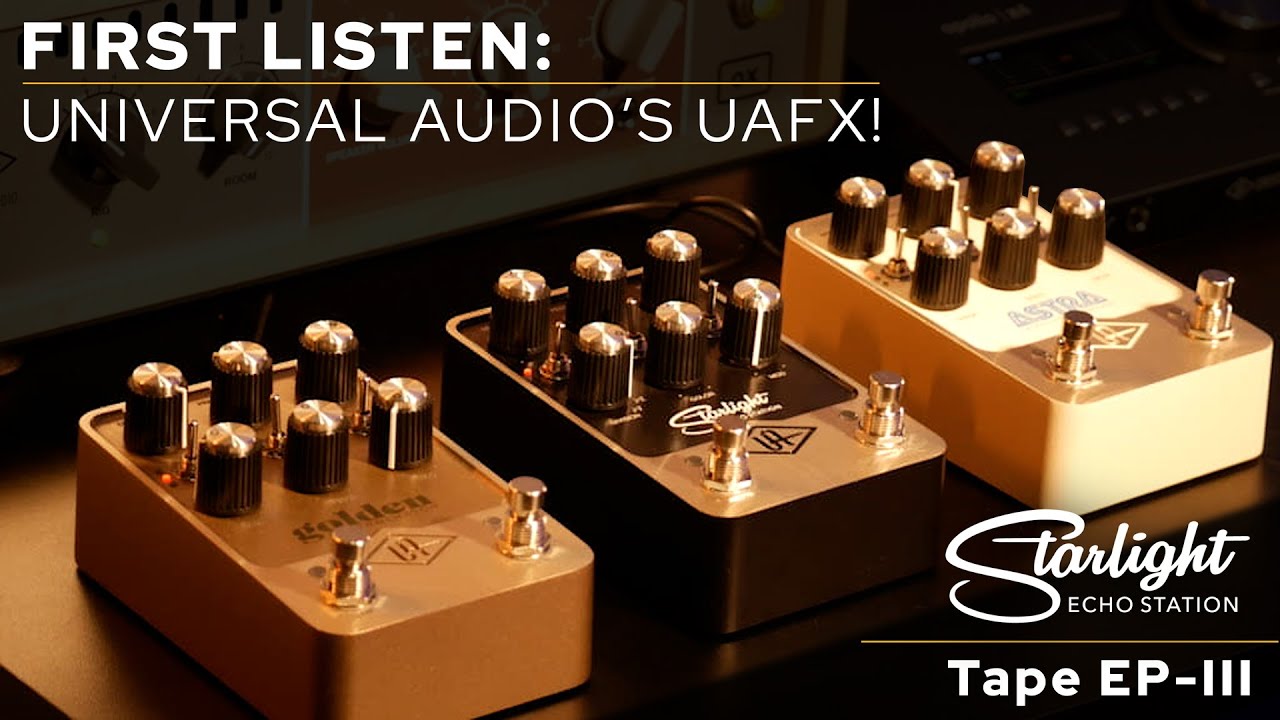 3:18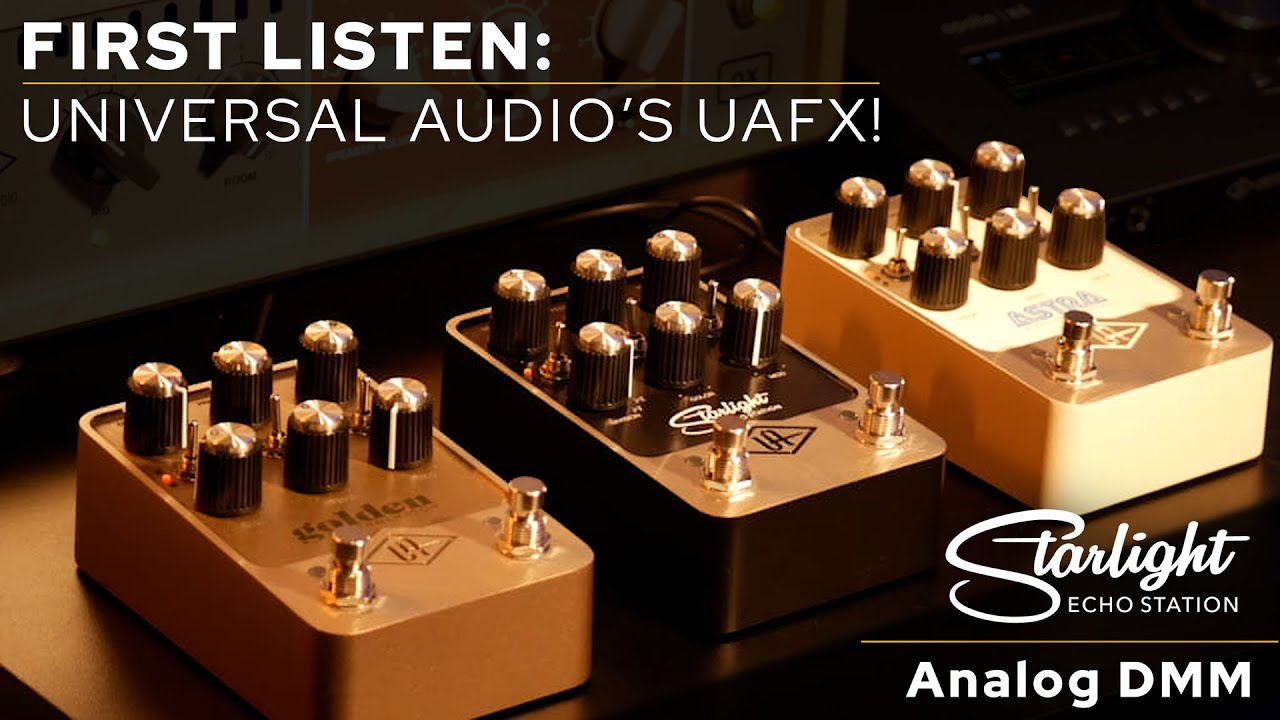 1:24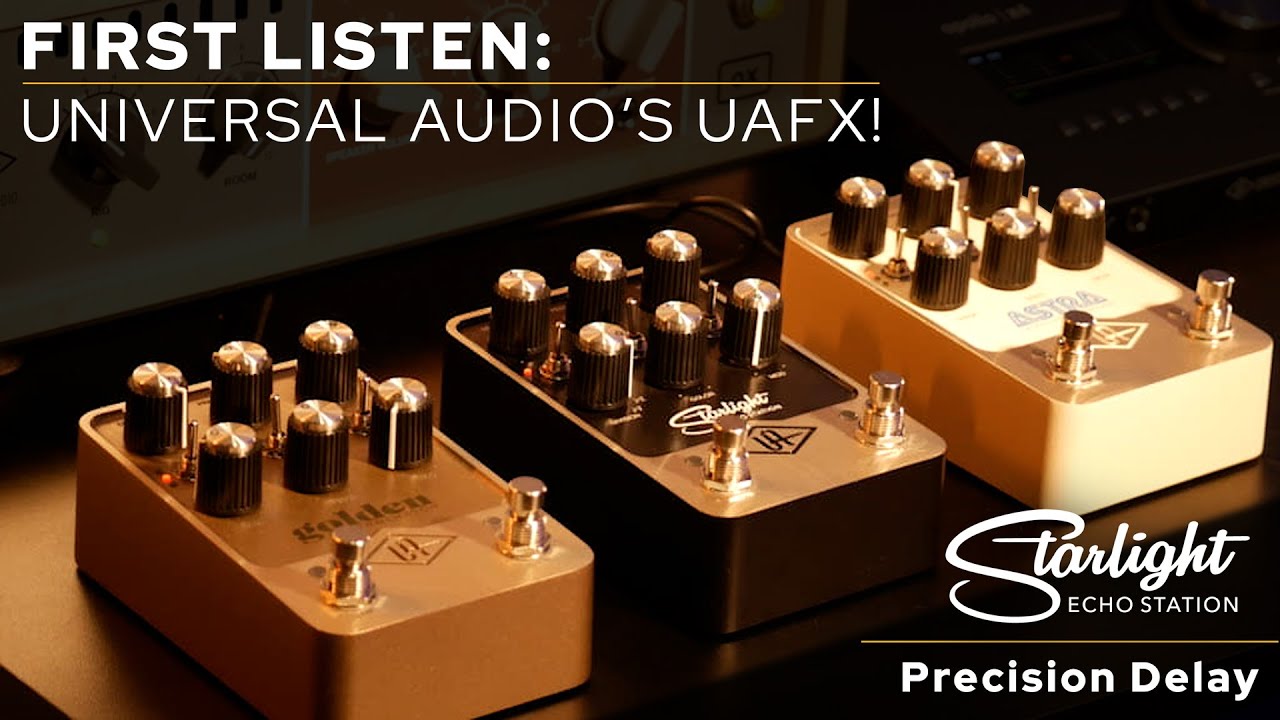 1:56
Click Below to Explore the Effects
Douse your sound in the classic wash of three vintage reverb styles! From drippy springs, lush plates, and huge halls, the UAFX Golden Reverberator provides the perfect space for any sound.
Spring '65 brings unparalleled spring reverb emulation to a pedal format. After three years of development, UA was able to capture every last splash, drip, and splat of three distinct vintage, tube-driven spring tanks from classic amps.
Based on UA's acclaimed plate reverb modeling, Plate 140 gives you the legendary "larger than life" guitar tones of Led Zeppelin, Pink Floyd, and Van Halen. But it doesn't stop there – plate reverbs are a perfect choice for synths, vocals, and much much more. Flip on the modulation for extra movement and depth!
The classic sound of the Lexicon 224 on your pedal board! The 1978 digital reverb's Room, Small Hall, and Large Hall algorithms defined the sound of an entire era — endless reverb tails and lush modulation for creating sonic landscapes. Add a subtle sense of space to guitars or send synths to another world!
Bonus Plate & Chamber 224 models upon registration!
Send your signal to space with three breathtaking delays! The UAFX Starlight Echo Station gives you the warmth of the Echoplex EP-III, the warble of the Deluxe Memory Man, or create entirely new sounds with UAD's acclaimed Precision delay!
A stunningly accurate emulation of the Echoplex EP-3, including tape age and splice, wow and flutter — plus optional preamp coloration. Made famous by Jimmy Page, Eric Johnson, Eddie Van Halen, and Andy Summers, UA went the extra mile to model multiple units in different conditions to give you a full range of sounds.
UA captured every nuance of this legendary bucket brigade delay, plus its optional preamp coloration. Made famous by U2, The Cure, and Radiohead, the Deluxe Memory Man is a must-have for any echo lover!
A pristine digital delay with tons of modulation options derived from the acclaimed UAD plug-in library. From crisp, clean echoes to fresh and exciting soundscapes, Precision Delay gives you a full echo toolbox with hands-on control.
Bonus Cooper Time Cube Effect upon registration!
From subtle thickening to sea-sick warbles and choppy tremolos, the UAFX Astra Modulation Machine gives you three flexible effects to add movement and color to any sound.
Based on the classic CE-1, the Chorus Brigade tone emulates every inch of this legendary pedal, expertly capturing its legendary bucket-brigade circuit.
The Flanger/DBLR perfectly emulates the prized MXR studio flanger's colorful, almost lo-fi-sounding "bucket-brigade" circuit — offering subtle thickening to whacked-out sci-fi effects.
Trem 65 captures the balanced, warm tones of classic Fender blackface opto tube tremolo (called "Vibrato" on the amp), with Sine and Square modes for extra flexibility.
Bonus Phaser X90 and Dharma Trem 61 upon registration!
See More from Universal Audio
Sign Up to Get the Latest Deals On the Gear You Need!